Foster Care Services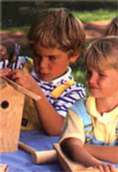 The Out-of-Home Care System is designed to protect those children who cannot safely remain with their families. Most are removed from their parents and made dependents of the court. A smaller number are wards of Juvenile Probation or live with legal guardians. Some are voluntarily placed in out-of-home care by their parents.
Currently, these children are placed in family homes with relatives, in licensed foster family homes, in homes certified by foster family agencies and in group homes. Statutorily, relatives are given preference over other types of placements. All providers of care for these children, except relatives and legal guardians, are studied and licensed by CDSS, county licensing bureaus, or foster family agencies.
The CDSS provides statewide training to foster parents through local community colleges and county- sponsored training programs to provide a supportive environment for the children. Independent living training and services are available to teens age 16 to 18 providing job and career development and skills that are needed to live independently.
A written case plan is developed for each child and family to ensure care and protection consistent with the best interests and special needs of the child in mind. The plan includes a judicial or administrative review every six months to determine if out of home care is still required. If, after 12 to 18 months, family reunification is not working, California statute requires that an alternative permanent placement plan becomes the goal for the child.
For Whom:
The Out-of-Home Care System is designed to serve and protect those children who cannot safely remain in their homes.
Where To Get Help
Contact your local county welfare department .
The World of Children
Visit the Children and Family Services Division website. .
Highlights
Child welfare is a complex area because it spans a wide range of services and because it deals with the fragile psyche of children and their relationship to their families. Child welfare programs cut to the heart of our values and beliefs about families and about children. We are torn between ensuring that children do not suffer abuse and the right of families to raise their children. Families establish bonds so strong that many adults spend their entire lives seeking out siblings, parents and relatives that they were separated from as children to re-establish relationships.